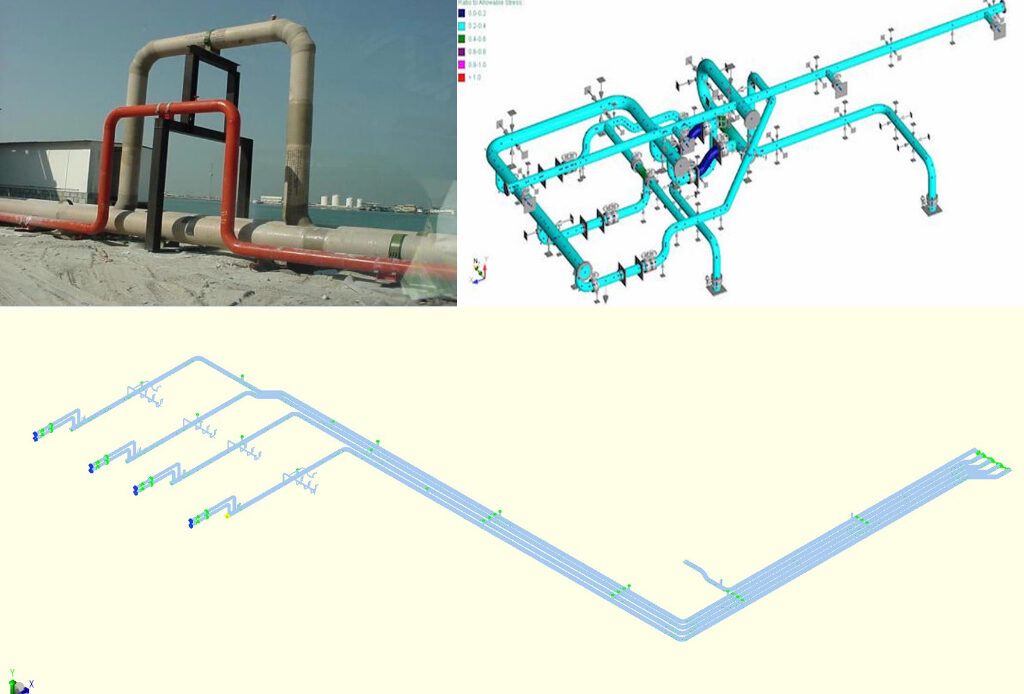 At AMIANTIT, we have a team of expert engineers with extensive experience in structural engineering and designs. That is why clients rely on us to provide top-notch system flexibility and stress analysis for piping systems.
External factors such as weights, pressure, thermal gradients, thermal transients, and bolt-up strain cause stress in a piping system. This strain becomes more prominent in environments with extreme temperature fluctuations or where equipment is sensitive to external loads. Our full spectrum system flexibility and stress analysis service evaluate and confirm the structural and operational integrity of piping systems.
Our teams have the experience and technical competence to handle projects ranging from simple analysis to complicated ones requiring vibration analysis. We undertake a cross-section system flexibility and stress analysis projects including Lube Oil Refining Plant, Refrigerated Propane Facility, LNG Processing Unit Ethane Vaporizer Skid, Sales Gas Metering Skid, Group Gathering Station, Hot Oil Heater, and a host of others.
All of our planners believe that everyone, rich or not so rich, deserves great financial advice and planning services.
That's why we take the time to listen to you, learn your goals and then create your plan using John Doe's philosophies that reflect the latest academic research.
Innovation and Research
We are working with clients, from individual investors to large financial institutions, to develop advanced portfolio management strategies to help them achieve specific goals.
Help clients navigate today's evolving markets
Research market ideas and build investment portfolios
Service Report
Each trading system creates an experienced trader and passes rigorous selection in the initial stage.