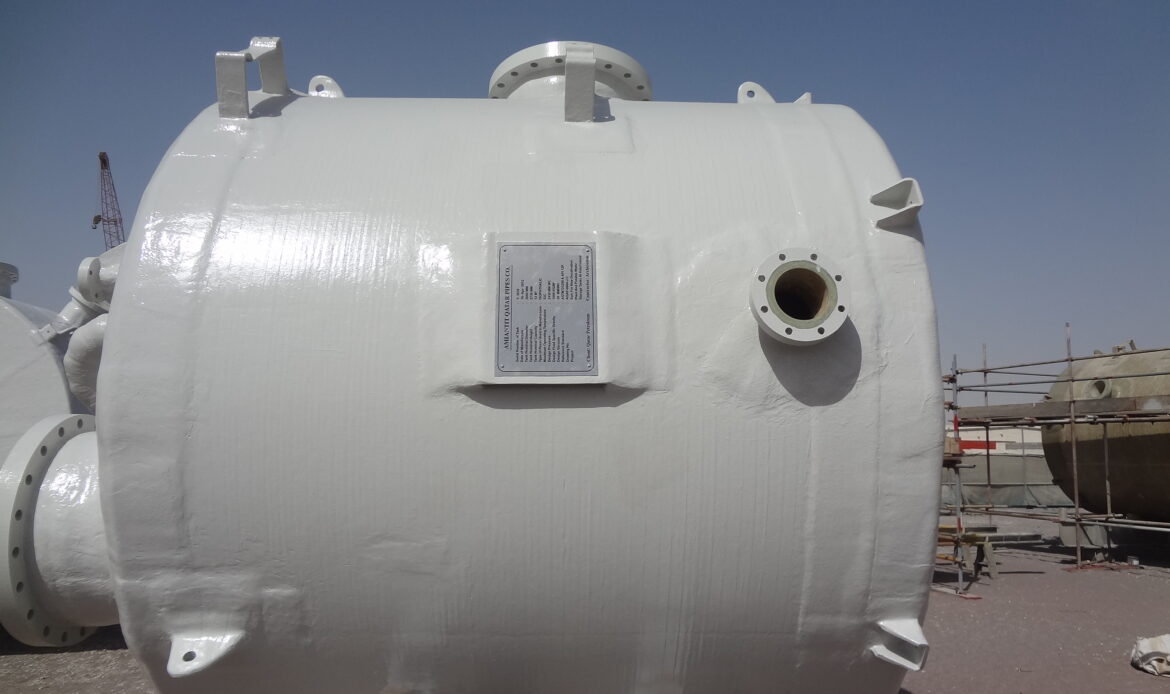 1 Above Ground Tanks Vertical and Horizontal
Above the ground tanks are exposed to extreme weather conditions that can degrade the tank material quickly. That is why such tanks should be made with materials that can withstand harsh weather conditions -from the freezing winter to the blazing hot summer. GRP readily comes to mind as an excellent choice for horizontal and vertical above ground tanks. Unlike steel and aluminum tanks, the AMIANTIT above-ground vertical and horizontal GRP tanks are resistant to chemical, water, wastewater, and sewage corrosion without additional coating.
AMIANTIT GRP vertical and horizontal tanks are lightweight compared to steel and offer superior strength to weight-bearing performance. The advanced technical formulation of AMIANTIT tanks ensures they outperform and outlast tanks made from traditional materials. The tanks are highly durable; the shape does not deform under high impacts; the same cannot be said of aluminum and steel tanks.
Our GRP tanks help you save costs in the long run. The anti-corrosion property negates the need for intermittent coating or painting to keep the tank durable. Its lightweight makes it easy to move and install on your site without the extra costs of renting heavy lifting equipment. This reduces the costs of installation significantly.
2 Scrubbers and Air Filtration Vessels.
AMIANTIT manufactures high-quality, self-contained, Air Filtration, and Scrubbers for controlling pollution by removing the matter expelled from industrial systems. This device provides a cost-efficient air purification solution for small flow odor air streams without the need for prefiltration or mist elimination. This product enhances workplace health and environmental sustainability by lowering the emissions and mitigating the harmful effects of emitted substances into the environment.
The AMIANTIT Scrubbers and Air Filtration Systems are commonly used in storage tanks, process vessels, sewage lift stations, and packaged sewage treatment plants. Another common application of scrubbers is the removal of tiny particles and acidic gases from heating systems such as boilers, furnaces, and incinerators.
Do you need a scrubber with unique specifications for your application? We can handle the engineering design and construction of customized scrubbers for dry or wet applications or biofiltration.
3 Underground Storage Tanks
The AMIANTIT underground GRP storage tanks have multipurpose storage applications ranging from water to petroleum and various chemical products. Our highly durable underground GRP tanks are made of polyester resin strengthened with fiberglass. Therefore, they are resistant to corrosion and do not require routine maintenance like underground tanks made from other materials. Underground GP tanks are rugged enough to withstand consistent traffic from heavy vehicles above the installation site.
Businesses that use AMIANTIT underground tanks don't bother with the hassles of periodic testing, record-keeping, or replacement of cathodic protection systems. They do not need to invest time and financial resources to preserve the service life of AMIANTIT underground storage tanks' Moreover, the risk of financial liabilities resulting from underground tank deterioration is not an issue. Chemical additives in stored products do not damage or degrade AMIANTIT our underground storage tanks. The tank's content can also be changed without adverse effects on the tank or the new content.
4 Pressure Vessels
The design and manufacturing of pressure vessels for the chemical, power generation, and oil and gas industries is one of our specialties. We have the equipment and expertise required to manufacture pressure vessels with bespoke requirements such as configurations, pressure ratings, insulation, and nozzle geometries. Our goal is to engineer custom-designed products that align with our customer's technical specifications, environmental needs, and industry standards. Our outstanding customer service has earned us consistent patronage from businesses in Qatar and the entire Middle East.
We take measures to ensure all our customized pressure vessels meet and exceed the ASME pressure standards for the client's application. From engineering design to the manufacturing phase, our engineers focus on safety and high performance. That is why we have a reputation for manufacturing durable, safe, and high-performance pressure vessels.