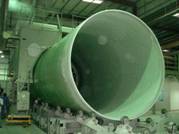 Product Name :

The pipe product covered within this website, Flowtite pipe, is a glass fiber reinforced polyester pipe, commonly abbreviated as (GRP),Glass Reinforced Vinyl Ester Pipes (GRV),Glass Reinforced Epoxy Pipes (GRE),Reinforced Thermosetting Resin Pipes (RTRP),Reinforced Thermosetting Mortar Pipes (RTMP) & Fiber Glass Reinforced Polyester Resin (FRP)
Product Definition:

AQAP Flowtite pipe is a flexible, filament wound. Structural composite conduit designed to convey fluids The pipe is produced by combining glass fiber reinforcements, thermosetting polyester resin and specially selected fillers in determined portions
Product Applications:

Flowtite pipe can be used in pressure and gravity systems, including Sanitary sewers, Stormwater , Potable water ,Raw water, Irrigation , Industrial wastes and effluents, Seawater transmission, Fire protection. Cooling water, Cable ducts ,Chilled water lines.